Description
Philip Oxygen Concentrator
Philip Oxygen Concentrator, we focus on the construction of oxygen concentrators capable of doing just that. firstly, We offer a wide range of oxygen concentrators for your business, pulse dose continuous output of 10 liters. Moreover, you can choose the best machine to provide your patients with the treatment prescribed.
With the portable and powerful performance SimplyGo and SimplyGo Mini, your patients can trust wherever they go. Nevertheless, with our stationary oxygen concentrator EverFlo, you can offer an elegant choice, small and stylish which is always friendly and lightweight at only 31 pounds. The Millennium M10 is designed for the Philip oxygen  machine 10 liters best performing and most reliable available.
SimplyGo Mini
Firstly, we have the SimplyGo Mini System w/Extended Battery
Device: 1113602
Moreover, SimplyGo Mini is a lightweight POC that has the highest oxygen output of any POC weighing 5 lbs or less. This model includes the Extended Battery. SimplyGo Mini is the smallest and lightest portable oxygen concentrator Philips Respironics has ever developed. It's the only portable oxygen concentrator weighing 5 pounds that can deliver pulse-dose oxygen therapy at 5 different settings.
Specifications
Brand: Philip
Reimbursement Information               HCPCS                              
E1390, E1392
Specifications
Sound level                                               56 dBA or greater when measured at 1 m
Size                                                            10.2in x 8.3in x 2.6in (battery installed
Weight                                                      6 lbs (battery installed)
Charge time                                             8 hours maximum
Typical battery duration                       Up to 9 hours with pulse setting 2, 20 BPM2
——————————————————————————————————————————————————————————————————————————————–
Philip Oxygen Concentrator: SimplyGo
Convenience on the go
Secondly, SimplyGo is the only continuous flow oxygen concentrator to weigh in at ten pounds – more than twice the oxygen output of any POC weighing 10 pounds or less. Includes easily changed lightweight and compact lithium ion battery.
OUT OF STOCK
——————————————————————————————————————————————————————————————————————————————–
Philip Oxygen Concentrator: EverFlo
Lightweight for easy transport
Firstly, The EverFlo oxygen concentrator weighs in at only 31 pounds, making it easy to move around and reducing the risk of injury.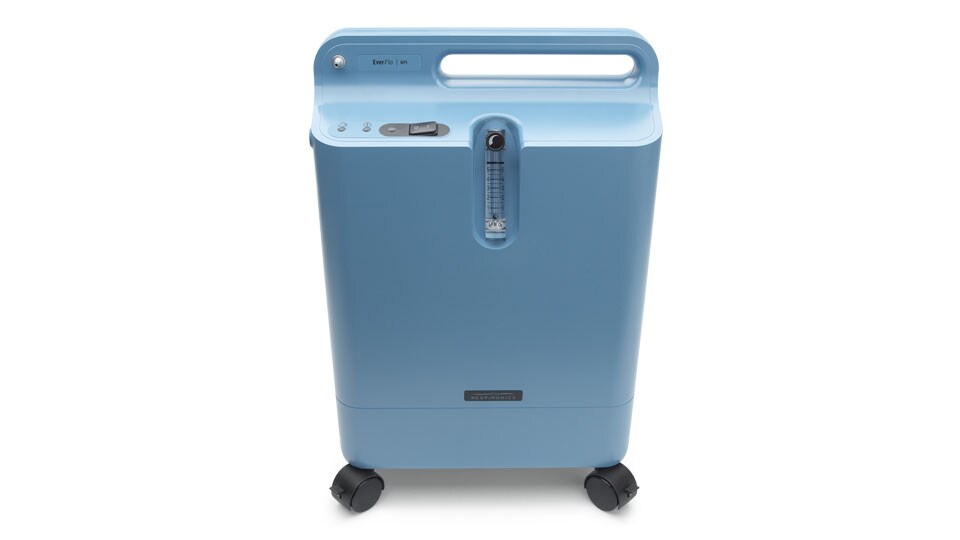 OUT OF STOCK
——————————————————————————————————————————————————————————————————————————————–
Philip Oxygen Concentrator: Millennium M10
Home oxygen system
Finally, The Millennium M10 is designed to be the highest performing and most reliable 10-liter oxygen machine available. It's engineered to reduce the cost of providing oxygen for patients who need high levels of oxygen.
OUT OF STOCK
Together they show how, with our full range of hubs, we focus on your business 24/7.
OXYGEN CONCENTRATOR JMC5A Ni
Firstly, JMC5A Ni oxygen concentrator is intended for individual use as an oxygen supplement device in a home or care facility. So, The patient is an intended operator. However, It is an electronically operated device that separates oxygen from ambient air. It provides high concentration of oxygen directly to you through a nasal cannula or other methods. Clinical studies have documented that oxygen concentrator are therapeutically equivalent to other types of oxygen delivery systems. Therefore, This user's manual will tell you about your concentrator and will serve as a reference as you use your concentrator.
Characteristics
In what follows, we are providing full details of the JMC5A
Firstly, Oxygen concentrator make up of mainframe、 humidifier and Flowmeter
Reliable, safe, complete plastic outer shell, breaker.
Display screen shows total elapsed working hours.
Moreover, Pressure safety valve helps ensure operating pressure.
Power loss alarm function
However, High and low pressure alarm function.
Low oxygen concentration alarm function
Finally, Heat protection to ensure the safety of the compressor and concentrator
With this purpose, Most portable oxygen concentrators, however, will last for around 4 to 7 years or more, depending on how often it was used and how well it was maintained. Therefore, Maintenance for the average portable oxygen concentrator is very minimal, and usually only consists of cleaning a filter. In truth, Oxygen concentrators are portable and easy to use and are thus contrary to oxygen cylinders. Indeed at 550USD-1200USD, they are more expensive than cylinders (1000USD-2200USD). In addition, they require very minimal maintenance.